I probably don't say this often enough, but my husband is an amazing person in many ways. One of those qualities is, his planning of LV trips! They have been incredible everytime we go!
Bryan had the idea we should go to Vegas for a mini getaway to relax, calm our nerves, and just have some husband and wife time to bond and reconnect. Being parents of an almost 2 year old boy does not always make it easy for us to spend the quality time we need together!
Generally, we stay in whichever hotel Bryan can find the best rates and comps
Harrah's Properties
. I actually really like Bally's. But Bryan decided this wasn't a normal Vegas trip and booked a room at
Vdara
! If you're not familiar with what or where Vdara is located, it is part of the City Center. You know, the futuristic spaceshipy looking cluster of buildings on the strip? Now you see it? No?? Well it's across the street from Planet Hollywood, and in between The Bellagio and The Monte Carlo.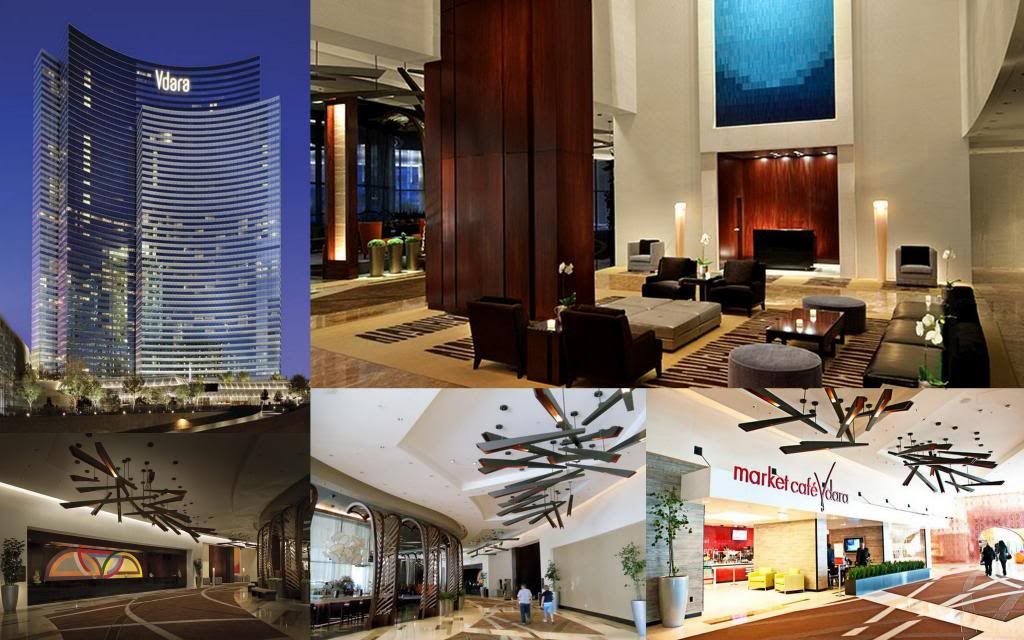 The decor in Vdara is very contemporary, sophisticated and elegant. The waiting area outside of the guest elevators is smartly decorated with clean lines, plush furniture, and fresh floral arrangements, allowing the feeling of sitting in the comfort of your livingroom.
The Market Cafe is conveniently located next to the waiting area and guest elevators, for a quick snack or treat from the coffee bar.
Oh, and a super big plus if you are not a smoker, is there is no smoking allowed anywhere on the premises!

At Vdara, all of the rooms are suites. We happened to stay in a Deluxe Suite during our stay. Our room was fully equipped with two mini fridge's, a stove and microwave, free wifi and a sitting area to watch the beautiful flat screen tv.
The window shades open with the touch of a button, which is a nice feature! Sure beats drawing your own shades by hand!
The bathroom was beautiful as well, with a deep bathtub and large shower, fluffy towels, and nicely fragranced lotions and soaps. Ladies, the hair dryer in this place was ahhhhhmazing!

Vdara doesn't have its own casino. Instead it shares the large casino in Aria, which is the main hotel in the City Center complex.
In the end, Bryan and I left feeling throughly relaxed and rejuvenated! Staying at Vdara was exactly what we needed!
** Disclaimer: The photo's you see in this blog post above are not property of Bohemian Honey.
Bohemian Honey does not take credit for the photograph's used above.